Weather station Castello delle Forme, Marsciano :: About
Disclaimer:
| | |
| --- | --- |
| | DO NOT use the data provided for making any decisions; use for navigation purposes is especially discouraged. |
This is a personal, experimental automatic weather station. It does not respect WMO nor ICAO station siting requirements. Data displayed on this website is only for informational purposes, and may be inaccurate and/or obsolete.
Please ask for explicit permission before using this website`s content on your own website.
---
About the station:
Location: Castello delle Forme (PG) Airfield, Umbria / Italy
Coordinates: N42.97° E012.37°, elevation 580 ft MSL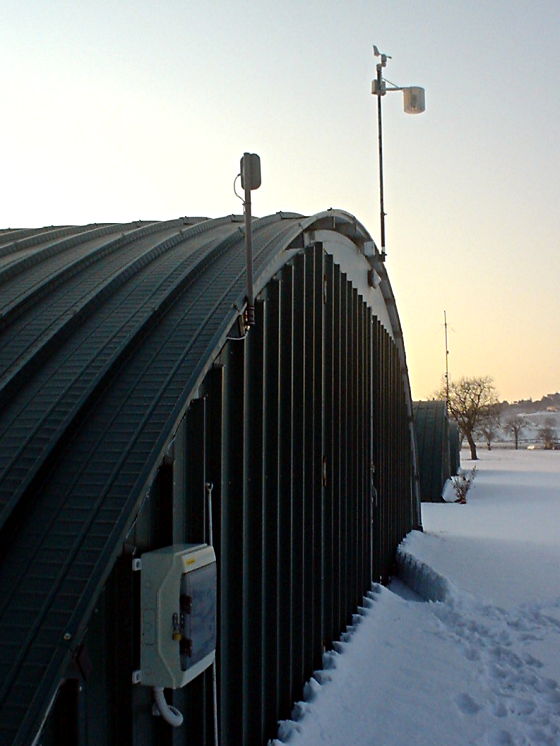 Hardware:
Weather station: wired
Europe Supplies WS-2300
, in modified IP65 DIN Rail housing
Webcam 1:
Logitech QuickCam E 3500
, in modified IP44 flood light housing, facing NNW
Computer:
Asus WL-500gP
, with external directional antenna
Total power consumption:
~8 Watts
- about ½ of a medium energy saving light bulb
Webcam 2: Modified
Canon PowerShot A200
, in DIY IP56 housing, facing NNE
Computer: wired
TP-Link TL-MR3020
, in IP54 housing
Total power consumption:
~5 Watts
Software:
Data acquisition:
OpenWRT Backfire
, slightly modified
open2300
/
gphoto2
Data transmission: several
ash shell
scripts
Weather server (this website): LAMP Server, receiver and display software in PHP
Layout based on the free
Blue Bliss
template by
bryant smith
.
Weather symbols borrowed from
XFCE 4.2
weather plugin
(©
Bob Schlärmann
, GPL License).
Website icons borrowed from
The Gnome Project
(version 2.22, GPL license)
External data:
7 day forecast, and forecast weather symbols ©
AccuWeatherGLOBAL, Inc.
LIRZ METAR weather conditions retrieved by NOAA ADDS, translation © wx.ininter.net
Check the station`s
history
here
(text file)
Weathermaster:
H.P. Stroebel